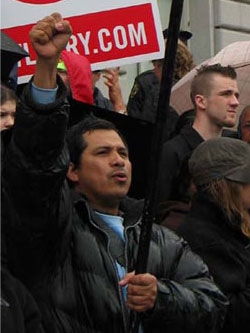 A third series of "BattleCry" stadium events and rallies, this time titled "BattleCry ReCreate," begins February 8, 2008 in New York City. For background information on these events and the 21-year-old organization behind them, see this article.
As noted on this website during the first series of "BattleCry" events, an effective response that carries meaning, and avoids helping Teen Mania to grow and strengthen their "BattleCry" campaign, must speak knowledgeably about what this organization is actually selling, down to the details - and then responds based on that knowledge.
A strategic counteraction - as opposed to a reaction - on terms other than those set in advance by Teen Mania would avoid handing "BattleCry" organizers further opportunities to use the presence of a counter-protest as a visual, a canvas upon which to project their own manufactured narrative in which they allege persecution.
In short: never give them what they want.
This article was first posted in May 2006 during the first series of "BattleCry" events.
Posted 2008-02-01