Former Bush-Cheney campaign youth organizer Jordan Sekulow, speaking minutes before the Detroit "BattleCry" event on live television, described the political impact and eventual benefit his party gains from evangelical teens like those who participate in Teen Mania's programs. Ron Luce appeared on the same program, live from Detroit, a few minutes after Sekulow made these comments.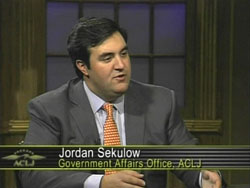 (Jay Sekulow:) You did, for the Bush-Cheney campaign, you were responsible for young people, the young adults. You've seen the impact that these kids can have. How significant was that, even in the political sense?

(Jordan Sekulow:) Well it's so important, these young people, and they can be sixteen years old, they didn't even have to be able to vote yet. And that was what was so important, they can be thirteen, fourteen, fifteen, all the way up to twenty-five, and really make an impact, not just even touching those that are their own age, but the community around them, because they're, what they're doing feeds off other people and other people feed off that, when they see young people engaged in something, engaged in something they don't expect them to be in, I think that's the important thing, like politics and like these kind of these new, this revolution that's happening in youth groups.
(Jay Sekulow:) Jordan, when you were working on these campaigns, we want to make sure that people understand that these young people are really engaged on all of these significant issues.

(Jordan Sekulow:)And I'll tell you something. The folks that were most engaged, the young people that were most encouraged within the grassroots movement of the conservative movement, and really when I worked for President Bush and Bush-Cheney, this last go-round in the 2004 election, the vast majority of our young volunteers came from the evangelical movement. They're members of right-to-life clubs on campus, pro-life groups on campus, and they were conservative, and they supported President Bush, and they were great at grassroots. You know why? Their parents were great at grassroots, they were involved in abortion protests, and things like that from years and years back.
Video Source: "ACLJ This Week" live special program on NRB Network, with Ron Luce as featured guest, preceding live airing of "BattleCry" Detroit. April 8, 2006.
Teen Mania has had a history of periodically having political figures address its events, including President Gerald Ford, Pat Robertson and Barbara Bush (via video).
Posted April 30, 2006